You Tell Me What You Want The Internet
to do for you and I'll tell you how!

Supported by
the Get Out of the Rut Club (GORC) and the Master Mentoring Matrix (Em3)



Hi, my name is Alain Lareau.
My System as you remember promises not to place you on a list used by an autoresponder to "market" program after program, instead I am "marketing" "My Method" and allowing you chance for discussion and review of what you think is right for you, which is "My Method". The Programs and Opurtunities I am posting here vary in terms of start up cost from near $500.00 to NIL and are arranged so for good reason. When you evaluate the many internet business propositions you see pushed at you on the web you may be thinking, this thing seams like a good idea but will the start up cost be an obstacle to recruiting people AS YOU SHOULD BE. The commitment of what kind of time people will devote to a business of this nature is a great factor. However what kind of money people are willing to fork up can not be the measuring stick of their seriousness. The BUDGET IS the BUDGET that IS cut and dry. My System builds a network by competing to be the one stop shopping spot for what ever is the missing ingredient that you need to help get you started, help your people get rolling and help those beyond to stay the course!



MyWorldPLUS
Now this company is a little trickey. You will NOT make money in this MLM without Three personaly sponsored members, and the same with your downline. This means help MUST be extended Two and Three levels deep to stop drop out. The monthly fee is $19.95 with a join up cost of $50.00 once. Not the best choice for a beginer. The up side is that those who come in as Pre-enrolees under you are viewable with email and stats.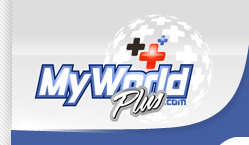 Use the banner hot spot below. View the pages for the WiFi Biz-Op.
Look them over carefuly, It will not cost you a cent to get involed with this.
I recomend this one if only for the sake of getting ahead of the learning curve.




I will list some services here. You see why they can be grouped together.

Long Distance, Quality 1+ and in-bound Toll Free Service at discounted rates from 3.89¢ per minute.
Local Service, Local and long distance telephone services in a bundle help you save money.
Dial-Arounds, Get better IN-state and International rates without switching your Long Distance.
Calling Cards, Top notch billed and prepaid services that will save you money anytime. Make calls from almost any country!
Voice Messaging, Leverage your time with unified messaging, distribution lists, and interactive recruiting messages.
Internet Access, We offer High-Speed DSL, T1, and Dial-Up services that deliver for much less! We also offer an outstanding spam filtration service.
Satellite TV, Deeply discounted digital satellite systems from DISH Network, the leader in Digital Satellite Television!
Wireless Service, Discount cellular/PCS and paging services through providers like Nextel, T-Mobile, AT&T Wireless, Pagenet and more!
Conference Calling, Discount conference calling perfect for business meetings, family reunions, and social events.
Computers, Need a custom computer or laptop? Our new dealer-direct relationship will ensure you find what you are looking for at the lowest possible price!
Home Security, Protect your home or business with security systems from Protect America. FREE equipment, with monitoring contract.
I-Net Telephony, Did you know that today's VoIP Technology makes it possible for you to place calls over the internet for pennies on the dollar?
International Service, If you live outside of the USA and make phone calls, then you need to check out these services.
Web ServicesDiscount ISP Dial-Up Service, DSL Service, T1 Service, Web Hosting - everything you need to get on the net at a fraction of the retail price.





Many in the above list of product/service categories are offered though Cognigen
Biz-Ops that pick up any category are "showcased" here.
Cognigen is free to join, the training and support by corporate is good.
I recomend you at least look this company over, it is a good baseline reference as what a legit outfit should look like and act like. There are at least Three ways to see the "cyberspace" where you would bring your prospect customers.

Cognigen | Business Oppotunity | Commercial page






Here are some of the many banners provided by Cognigen's marketing support.



See what Cognigen has offer.
send your email to alainelj@yahoo.com




Search Engine Spider Bait

Build a page with CONTENT and set it in this outline.
Use that page to help get your website listed and rated.


Search Big Daddy
Identifying Unethical Search Engine Optimizers
by Net Marketer Ezine


A search engine optimizer (SEO) helps websites improve their rankings on search engines through Search Engine Optimization. The job of SEOs involves writing content for sites, planning the site structure, and looking for the best directories to submit the website URLs to. They also advise the website owners on how to optimize their site URLs.

While SEOs are helpful in general, you must always guard against those that use illegal or unethical practices to get your page ranked high on search engines. If a major search engine detects any malpractice, chances are that your site can be blacklisted, or even dropped from the rankings altogether.

The following points must be kept in mind while choosing a Search Engine Optimization service provider.

1) Unsolicited Mails

If an SEO sends you an unsolicited mail claiming they can improve your search engine rankings overnight, be careful. Take such claims with a pinch of salt, because improving search engine ranking or being listed is a long, painstaking process.

2) Partnership with Google

If an SEO claims to be in some kind of partnership with Google, or promises to rank your page at the top, beware. Google does not enter into partnerships with any SEO.

3) Vague Responses

If you have doubts that the SEO is not able to clarify, or does not want to clarify, then you might want to reconsider entering into a business relationship with them.

4) Do Your Homework

Do some research on SEOs, their tactics, and the methods they employ to improve page rankings or listings. Make thorough enquiries about the financial aspect, the click per view programs, and affiliate programs. Consult as many SEOs as you want, you can even ask them to recommend an SEO of their choice. Learn for how long the company has been providing Search Engine Optimization services, and if they have a previous history of using illegal, unethical or coercive tactics.

5) Legal Protection

Get a detailed contract on paper, so that you are legally protected against being cheated out of the money you paid. If the actions of the SEO result in your website being blacklisted or your ranking dropped, then insist on a refund.

6) Shadow Domains

Be careful of shadow domains. These are owned by SEOs and are used for directing traffic to the site of their clients through illegal means. If the client decides to end the business relationship with the SEO for some reason, then the SEO may use the same shadow domains to redirect the traffic to a different site, away from the original one.

7) Keyword Loaded Pages

Sometimes, an SEO might use a page full of keywords on a client site. The content does not make sense, and the page is used simply to attract traffic from search engines. If you think that is good for your site, think again. These pages sometimes have a link to other URLs, maybe even your competitor's, which means that the keyword loaded page is taking the traffic away from your site to your competitors'.

8) Selling Domain Names With Keywords

If the SEO tries to sell you a domain name loaded with keywords, then be careful.

9) Using Little known Keywords

You must also avoid dealing with an SEO that guarantees to rank you on the top, but only for keywords that are seldom used by searchers. The SEO will want a lot of money for this, when you would probably have gotten the same ranking without using Search Engine Optimization for these keywords.

10) Doubtful Links

If the SEO creates doubtful links, or submits your URL to many search engines for listing, then it should put you on your guard. Inundating search engines this way is rarely the best way to Search Engine Optimization, and might even get your website blacklisted by the search engines.

The world of search engine ranking is highly competitive, with each website owner determined to get the best ranking for his or her site. Unethical SEOs simply use this desire of the website owners to make huge profits by promising them the moon. A little background check, some knowledge of unethical Search Engine Optimization practices and some careful thought go a long way in ensuring that the SEO does not get your website blacklisted.



About The Author
http://www.netmarketerezine.com With the recent boom in Internet marketing and research, search engine results have become a highly competitive area. All websites vie to be displayed on the first page when Google or Yahoo searchers throw up a result, and this has led to the newest area of Internet growth- Search Engine Optimization. Search Engine Optimization: Different Folks, Different Strokes There is no single answer to the question- "what is Search Engine Optimization?" Search Engine Optimization has many methods, some hundreds of software tools that are used for it, thousands of different kinds of guidelines to be followed, and each Search Engine Optimization service provider follows a different method of Search Engine Optimization. Still, it is interesting to look at some definitions of the ways "Search Engine Optimization." Fakezilla defines Search Engine Optimization as changes made to code and content of websites so they show up on search engine results. The changes, according to Fakezilla, involve content rewriting, changing META tags and adding onsite or offsite links. According to Wikipedia, Search Engine Optimization involves making the website more visible to search engines. Web Search Workshop calls Search Engine Optimization a marketing technique that improves the chances of the website being ranked among the top results that a Google/MSN/Yahoo search will throw up. Still others describe Search Engine Optimization as something that makes a website "search engine friendly". Search Engine Optimization: The Best Definition The best way to describe Search Engine Optimization is as a method to tune a website so that it becomes more visible to search engines, and ensures that the site receives the kind of traffic that it aimed for. That is, Search Engine Optimization delivers a particular profile of visitors to the site. So if your website is offering air tickets to Miami, Florida, then the site should receive visits, and possible queries, from people planning to go on vacation, specifically people who like vacationing at beaches, and those who do not fear flying. Search Engine Optimization makes this targeted traffic direction possible. What Search Engine Optimizers (SEOs) do? The job of SEOs is not easy, since a thousand factors must be considered to get the right kind of visitors to a site, or to even make the site visible to search engines. The following are the things SEOs do for Search Engine Optimization: * Get search engines to go through the site using crawlers, or bots. * Get search engines to index the site * Get a high ranking on the search engine result page * Get the desired traffic. * Ensure a superior conversion rate among those who visit the site. Search Engine Optimization: Some Myths Now that we are clear on what Search Engine Optimization is, let us look at some misconceptions regarding Search Engine Optimization. Every Meta Tag is Equally Important Search engines do not go by META tags alone. They consider things like content, and linking. Some search engines might pick up the description, so you should work on that. You should Submit Your Website URL to Search Engines Often There is no need to overdo this. You may want to consider some changes, or update your website, and then submit the site to the search engine for indexing, but there is no need to submit every week, or every fortnight. The search engines can pick up the sites most relevant to a particular search, so you just need to sit back and let this happen automatically. Search Engine Optimization Costs the Earth Not really. You need to invest once to hire the best professionals to get your site indexed and ranked, but then, you also get to reap the rewards of this investment. If your site is good, that is, it is Search Engine Optimized, and if you can keep it that way, then the site will keep showing among the top results of Internet searches, and you will be the winner. Hiring an SEO to work within the company is cheaper Most SEOs who work as part of a company must be paid by the hour, or you must fix a regular salary for them irrespective of the amount of work they put in. A specialist from outside, however, charges for each project executed. Pay them once, and they will keep working on your site until you have the desired result. The area of Search Engine Optimization is very fluid, with no fixed formula that can get your site ranked at the top. You have two options in from of you, either learn as much as you can about it, or hire a good SEO firm to help you out.